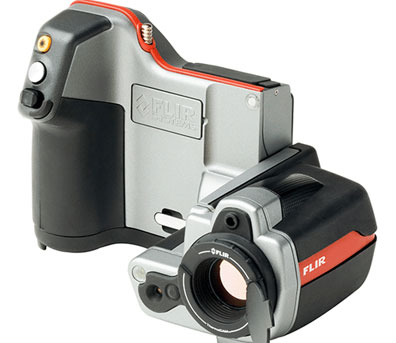 For Thermal Imaging we use a Flir T425 Infra-Red camera  with 1 - 8x continuous, digital zoom, a 320 x 240 pixel resolution, a 50mK NETD/0.05°C thermal sensitivity and an extended temperature measurement range of -20°C to 1200°C which enables us to accurately detect thermal variations . The FLIR T425 Thermal Imaging Camera is a portable infrared camera from FLIR Systems that takes infrared camera ergonomics, weight and ease-of-use to a new level. The result is a camera range in which all models are equipped with exceptional features.The T425 automatically calculates differential temperature and can also display isotherms to make fault detection a much more accurate diagnostic tool.
The Flir T425 can also provide periodic image storage every 10 seconds up to 24 hours to record how temperatures change over a time period.
The Flir T425 also features Meterlink allowing the transfer of data taken with the Extech EX845 clamp meter recording electrical meter readings direct to the image on the camera thus saving you the time of recording the measurements manually and the possible errors that can arise in matching them back to the image when compiling your report.