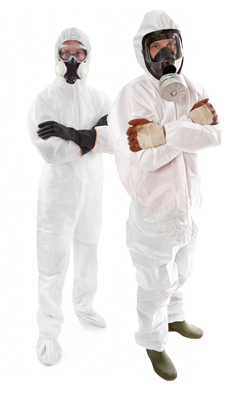 We are a Company dedicated to mould removal and treatment in residential, commercial and institutional premises.   
We offer a unique service which includes new technologies including a novel mould remover, a disinfectant foam, an unique air treatment device, approved laboratory and testing facilities, and full technical support from experienced Consultants in Remediation, Building Pathology and Microbiology. 
Our service includes an initial site survey during which we take air and surface samples for mould testing, use thermal imaging to detect excess moisture/condensation issues/water ingress, and detail any structural defects, and advise on the effects of mould contamination and the necessary remediation processes. CleanAir Limited offers their clients a complete solution to all their mould problems, whether in the home or office; or in schools, clinics, hospitals etc. We can also treat storage areas, stables, barns and out-buildings where livestock and produce may be affected by moulds. 
Clean-up and remediation
Clean-up and remediation of affected areas is carried out by fully-trained CleanAir Technicians. Mould-affected areas are screened off during the clean-up process, contaminated materials such as insulation and plasterboard, are removed and bagged for disposal, and vacuum cleaners fitted with HEPA filters are used to remove debris and dust that may be contaminated with mould fragments or spores after treatment.
Our main objective at CleanAir is to provide clean air for everyone, without putting either the occupants or the premises at risk, and to return the building to normal occupancy/use as soon as is practicable.  
Products for remediation include:
Air Treatment: the portable plug-in AirManager units use a patented DFT (Disruptive Field Technology) to remove mould fragments, spores and MVOCs from the air. These units can be used to provide clean air as soon as the mould problem is detected as well as during the cleaning/remediation process. AirManager domestic units can also be leased or purchased for client use.                                               
Improved 'fogging' with our eco-friendly, non-toxic CleanAir mould remover, this product has a triple action, its kills actively-growing mould on surfaces, kills mould spores in the air (when applied as a fog/mist), and neutralizes dead mould which can also be allergenic and toxic. CleanAir mould remover is cost-effective, non-toxic and eco–friendly, and has no harmful effect on soft furnishings i.e. curtains, carpets and clothes. CleanAir recommend 2-3 hours for the product to have a full effect on the area being treated.
CleanAir mould remover is formulated with hydrogen peroxide stabilized with acetic, benzoic and sorbic acids, and is effective against moulds, mould spores and bacteria. Residual levels of benzoic and sorbic acids inhibit further growth of moulds and bacteria on treated surfaces. CleanAir mould remover does not contain chlorine, hypochlorite, alcohols, aldehydes or ammonium compounds.
Improved disinfection of floor, ceiling and wall voids. CleanAir disinfection foam was developed specifically for the treatment of contaminated cavities and voids, crawl spaces, insulated ceilings and walls etc. where traditional remedial measures are considered impracticable or too costly. Similar to CleanAir mould remover, CleanAir disinfection foam is cost-effective, non-toxic and eco-friendly; kills actively-growing mould and bacteria on surfaces, and neutralizes dead mould which can also be allergenic and toxic. CleanAir disinfection foam is dispensed using a dedicated foam machine by trained CleanAir technicians, and left for a contact time of at least 30 minutes – after which time it breaks down, and normal drying procedures can be applied,
Installation of CleanAir humidity-activated air vents to prevent further mould growth. These devices work off the relative humidity (RH) in a room: at high RHs the vents open allowing air to enter the room, as the RH drops the vents close. Maintaining low RHs will prevent further mould growth. The humidity-activated air vents are not powered so there is no additional running cost to the client,
Air and surface testing to detect levels of mould after treatment (MVOCs, contact and settle plates, tape lifts etc. as required).